Well-known member
Supporting Member
Marketplace
Ricci Talks and Matt Irwin have completed their own tests on the Z8 and overheating / shooting life in various codex/formats - as Ricci says
Nikon Z 8. Does it overheat ? 8K 60FPS RAW. Depends on the Memory Card
. YES -- greatly and the ambient temperature.
Matt Irwin's vid is now live as well
As I mentioned to Ricci: "Many thanks to you and Matt for performing these test. AND for setting out the parameters you used so clearly - this means we can all replicate these tests and confirm to our own satisfaction how our gear and cards perform relative to yours. I assume you were using Standard Quality video and oversampling etc were all disabled (not that they work at the highest formats).
Your point about the card really matter is well made
-- I would note that you were not using the fastest nor coolest cards in these tests either -- this an observation not a criticism. Since the x2.0 standard for CFE-B cards was adopted many leading manufacturers have released ultra-fast and even cooler running cards than those you used. For example, Delkin Black updated their range to newer faster cooler cards than the 512GB now the 650GB AND there are new brands also now available -- like Sabrent's Rocket XXIT (2TB which I use). Angelbird's AV PRO 2.0 is faster, cooler and at up to 4TB larger than the card you are using in these tests.
Clearly use of the UHS-II SD even with a V90 compliant card will vastly throttle what can be shot and the speed the camera can off load images or footage.
Nikon should update their approved and recommended card list AND their own cards, which are no longer in the top tier. It would be very helpful if you, or Matt or others did perform battery life tests - but I would also like to see guidance on how to save power -- like turning the brightness of the EVF/LCD down and the camera off when not using it. As you noted for the majority of us it is the battery life and Nikon's recording time limit restrictions that would limit any recording -- but more important only a very few folk would plan a shoot with very very long takes. One shoots a scene often multiple takes and always in multiple points of view - wide and close, on each character etc. When I shoot wildlife action a single take is typically measured in a few seconds -- even long takes normally do not exceed 5-10 minutes. So beyond a very few scientists and astronomers I do not understand the desire to shoot for ultra long duration single record times."
Ricci responded saying he tested the new Delkin Black cards and yes while quicker it was not by much.
Here is a summary of their test results: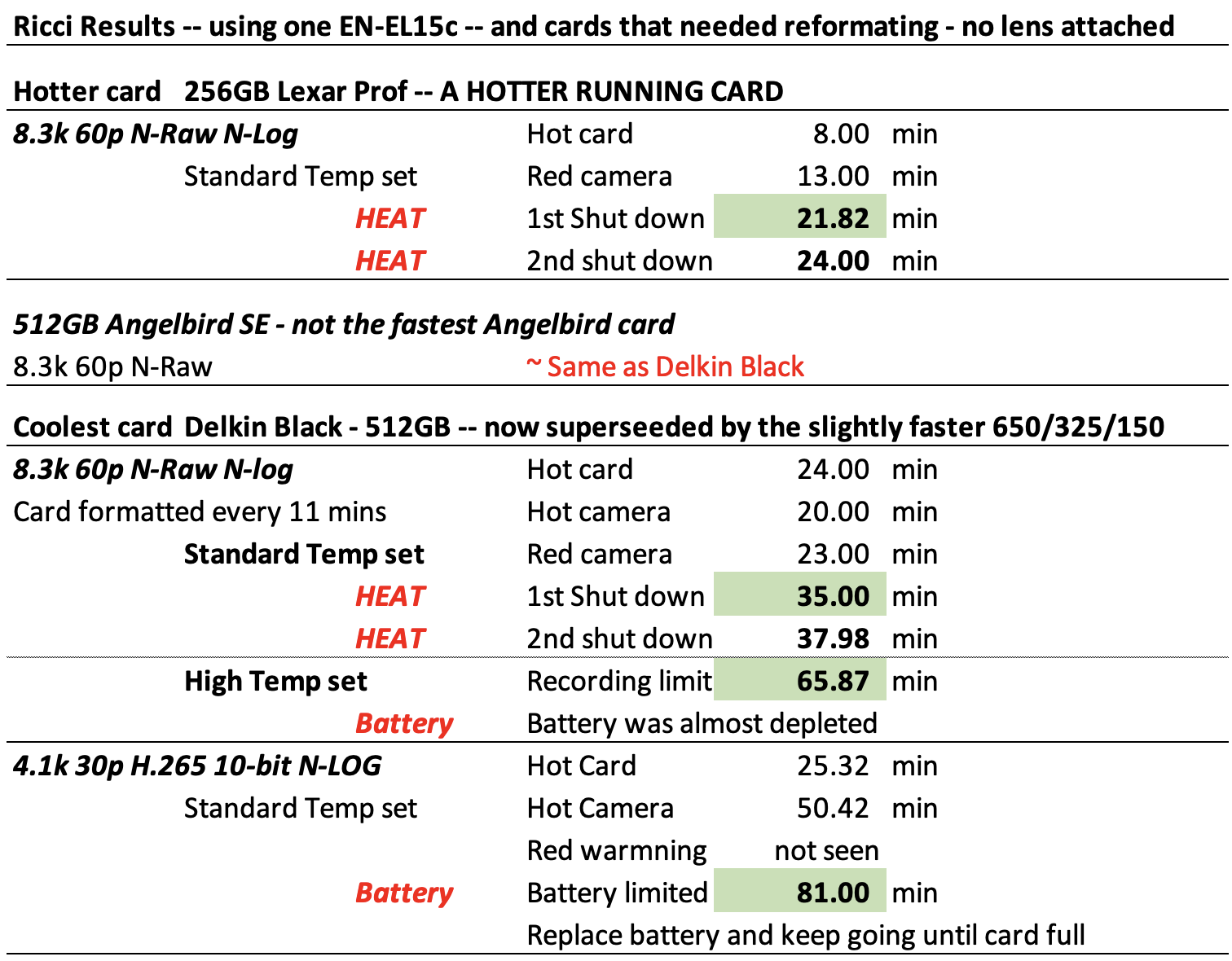 My view is that when planning a shoot one must match the gear to the requirements of the shoot - if you plan to shoot very long sequences in 8.3K 60p N-RAW (most of us don't) then bring a number of very fast large cards -- a 2TB fills in 46 mins when shooting in HQ -- and fully charged batteries - oh and also bring lots of storage and a very fast PC/Mac to process the output. AND then layout your shooting plan to ensure that the gear has time to "recover" -- this is just basic planning. Almost no one shoots continuous recordings for very very long durations. AND there are obvious steps one can take to extend battery life -- like turning down the brightness of the EVF/LCD. But now we have a basis for conducting our own tests should we wish and have the time and patience to do so.
AND as many have said - we need more Z8 in peoples hands so each can perform their own testing -- hopefully starting with the same as RICCI and MATT I so we can verify their results and then move on to who and what we shoot. This will happen in time and we are only 1-week after launch.
Last edited: